What Does a Furnace Look Like in a House?
A furnace is metal box with a combustion chamber, heat exchanger, air filter, and blower and also connected to the AC's evaporator coil. It pulls cold air from the house and heats it and thereafter supplies it back to the house via air ducts.
Furnaces are powered mainly by natural gas but could also be powered using propane, oil or even electricity. They look just like air handlers, and hence the reason most folks have a problem telling them apart.
So, where is the furnace located inside your house? How do you even know if you have a furnace?
A furnace would be located in a central location inside the house. Usually, the furnace will be located in the basement, attic, crawlspace or inside a utility closet with the ductwork and air vent connected to it. In most houses, the furnace will be installed very close to the water heater.
And where would a furnace would be located in an apartments, bearing in mid that they have no attics, basements or crawlspaces?
Apartments have a shared heating system for all the units. However, if your apartment has its own heating system, the furnace will be located inside a utility closet, somewhere on the wall or even outside in the balcony.
Furnaces are usually paired up with air conditioners. The air conditioners will cool the house during the summer while the furnaces heat the house during winter.
A furnace is not part of the AC. Both of them work independently. ACs are electric powered and are for cooling the house while furnaces run on natural gas, propane, electricity or oil to heat the house. However, the 2 units together to form an HVAC system and even use the same blower and ductwork for air distribution.
An alternative to a furnace is an air handler. While it is possible to pair an air conditioner with an air handler, the setup is only beneficial if you live in an area that experiences mild winters.
For folks who live in areas that experience extreme winters, a furnace paired with a central conditioner is the best choice. On the other hand, people living in areas with mild weather can opt to install a heat pump paired up with an air handler.
Does Every House Have Furnace?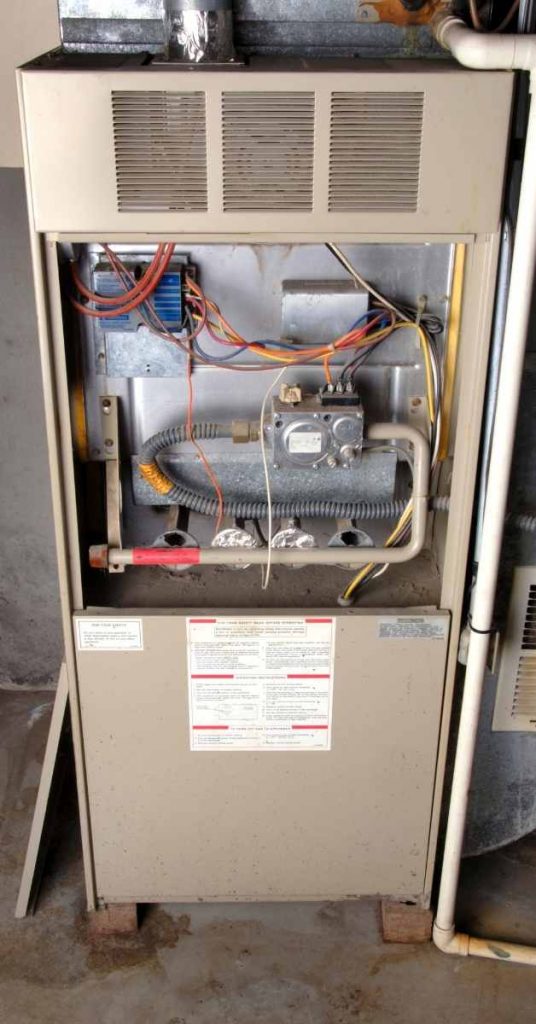 No! Not every house has a furnace. Some will have a heat pump while others will have a boiler. The choice on which to install depends on location, cost, and climatic conditions among other factors.
Furnaces are preferred in areas that experience extreme weather conditions, especially winter. A furnace will keep supplying you with heat despite the weather conditions outside the house.
Heat pumps are very energy-efficient since they heat the house by extracting heat from the outside air even when it is quite cold. They continue removing heat from the air but only as long as temperatures don't dip below 35/50 degrees.
When temperatures fall below that, a heat pump cannot extract enough heat from the outside air and that is why they are paired up with air handlers to provide supplemental/auxiliary heating.
The heating from the air handler is usually in the form of electrical resistance heating which is quite expensive. Having a heat pump in an area that experiences freezing winters would therefore mean that auxiliary heating would be on most of the time which wouldn't be efficient.
Boilers work by boiling water until it turns into steam. Steam is lighter than water but denser than air. Steam holds heat better than air and is therefore better at transferring heat to where it is needed.
A small heater or furnace would be connected to the boiler. And is responsible for heating the water. Once the water boils, the heat generated is distributed to your house through the ductwork.
How Do I Know if I Have a Furnace?
As I have mentioned above, your house will be heated by a furnace, heat pump or boiler, But how can you tell if you have a furnace or not?
The first thing you need to do is make your way to the basement, attic, crawlspace or the utility closet where the furnace would be located. Start by looking at how the unit looks like.
To start with, it is very easy to tell if you have a boiler. A boiler would be connected to a copper or iron pipe (which could be insulated). On the other hand, a furnace would be connected to ductwork, normally stretching all the way to the ceiling.
As I had mentioned, if your house is heated using a heat pump (located outside the house), there would be an air handler inside the house, to basically move air around and activate auxiliary heating when temperatures outside drop.
An air handler looks like a furnace and unless you know where to look it is not easy to tell them apart.  So, how do you know if you have a furnace or an air handler?
One thing you can do is to have a look at your thermostat. If you see "Emergency Heating" (EM heat) setting on the thermostat, you indeed have an air handler connected to a heat pump.
Another thing you can do is to turn on heat on the thermostat and dash outside. If the outside unit starts running after turning on the heat, you have a heat pump. Otherwise you have an AC paired up with a furnace.
Another way of telling you have a heat pump is when the Energy Guide on the outside unit has booth SEER and HSPF ratings. Heating Seasonal Performance Factor (HSPF) is found on heat pumps but not ACs.
Do I have a Gas Furnace or an Electric Furnace?
Most furnaces in North America are powered using natural gas. But how can you really tell what your furnace uses? It is actually quite easy to tell if you have a gas or an electronic furnace.
The first thing you should do is head over to your thermostat and turn on the heat. You need to have warm air circulating through your house for this test.
The second step is locate your furnace. As I mentioned earlier, that would be in the attic, basement, crawlspace or a utility closet (especially if you live in any apartment).
Check if you can see a glowing blue flame through a small window on the furnace.
A gas furnace uses a burner to produce heat. If you have a glass burner, there will be a small glass window (sight glass) on the furnace through which you can see a glowing blue flame inside. The gas burner will also have a distinctive noise as the gas is being burned.
On the other hand, if you cannot see a small glass window and a blue flame and neither can you hear any noises from the furnaces, you without a doubt have an electric furnace.
A gas furnace will also have a gas line (black iron pipe) connected to it for supplying it with the gas. It is the same type of gas used on gas water heaters. They also have an exhaust vent.
The first letter of the furnace's model number can tell you if you have a an electric or gas furnace.
Where is My Furnace Filter Located?
An air filter is an important part of the HVAC system. The indoor air contains dust, pollen, lint and other impurities that make it unsuitable for breathing in.
When the furnace blower pulls air from the house to the heating heat exchanger through the return air ducts, the air first passes through the filter. That is where all the impurities are removed so that the air being supplied back is not only hot but clean.
As you can tell, after years of usage, the filter is more likely to clog, restrict the flow of air and therefore make the whole system ineffective. As such, HVAC filters will need to be replaced from time to time.
In order to do that, you will first need to know where the air filter is located inside the furnace.
Unfortunately, there is not a standard position where a furnace filter is located. It varies from furnace to furnace. However, if you know how a furnace works, you will know where to look.
As I mentioned, it is desired that the dirt in the indoor air is removed before the air is heated and supplied back to the house. As such, you can expect to find the filter either inside the return air duct (very close to the furnace) or inside the furnace but close to where the return air duct enters the furnace.
There will be 2 ducts connected to your furnace. The return air duct would be connected towards the bottom of the furnace. If you want to be sure, turn on the heat for about 5 minutes then use your palm to detect the changes in heat between the 2 ducts.
The return air duct would be cold (contains cold air from the house) while the supply air duct would be hot since it carries heat from the furnace.
All the same, the furnace filter will be located on the bottom half of the furnace, so you will only need to look for a small door or hatch which you can easily pull to access the filter.
How to Locate Your Furnace's Model and Serial number
When you have a problem with your furnace and you need to have a technician come over and fix it, they are likely to ask for the model number so that they know what parts to bring along with them.
Most folks give out the numbers on the user manual. However, that is not always the correct model number but a series number.
To get the correct model number, you need to locate the data sheet which is usually located somewhere on the furnace.
Start by removing the door on the furnace's burner compartment. The date sheet will be either underneath the burner or on one of the inner walls of the burner compartment. You may need a flashlight to clearly ready the numbers.
If for instance the model number of your furnace is G40UHV-60C- 110-02, this is what each number mean:
G – gas powered furnace
40 – series
UH – up/horizontal flow
V – variable speed blower motor
60C – cooling capacity
110 – BTU rating
02 – Revision/dash number
The serial number of the unit will be next to the model number.
And basically that is everything you would want to know about locating the furnace in your house . I hope that this guide was helpful.